After having done the research on the many ways one can make money with sexual/adult content, I still can't believe how many opportunities there are available to make some extra money using the internet.
A few weeks ago I published two guides showing you how to make money as a phone sex operator, and also a tell-all guide on how to become a cam girl and they've already become two of the most popular posts.
Keeping with that line of thought, I've decided to see what other opportunities are available in the fetish/adult niches online & YES…
You can definitely make money selling used underwear!
Today, I'm sharing with you my review of the SofiaGray website, the marketplace for buying and selling (used) underwear online.
(& you'll be surprised to see how much money you can really make doing this).
When Did Selling Your Used Underwear Become a Thing?
Underwear fetishism is a sexual fetishism where people get sexual pleasure from undergarments, used panties, bras, socks, etc…
This "culture" seems to be super-popular in Japan, where you can even find vending machines that sell used underwear.
On the internet, this is an even bigger thing. With an online audience (possibly in the millions) ready to buy (and sell) underwear – it's not a surprise the "panty business" is a booming industry.
Are you interested in getting in on the action and making money? Here's…
How To Sell Your Used (Dirty) Underwear For Fun & Profit
There are many ways you can sell your used underwear online and make good money doing it (I will be giving you an estimation of how much you can earn soon) but one of the most popular "online marketplace" for this is Sofia Gray:
Sofia Gray Review: A Marketplace For Used Underwear

What is Sofia Gray?
Sofia Gray is a website that allows anyone to list their dirty used underwear online and profit by selling it to customers who are into that sort of thing.
You really have to see this site to believe it (and admire the ingenuity if the business model).
By visiting their online shop, you can browse through 100s of different sellers and you can even filter through the selection by:
Price
Time-worn
Scent
Ethnicity
Age
etc…
I guess you can consider Sofia Gray to be the Amazon standard for used panty selling online.
How Does SofiaGray Work?
All you need to do to get started is to visit the Sofia Gray website and register as a seller.
As a registered seller, you can then create your own "online store" through their platform which will allow you to list images of your used panties, along with the price and of course; a small description to make the accessory even more enticing to the buyer by explaining the story and history of you and those panties.
You can see this example for "best practices" when selling your used underwear: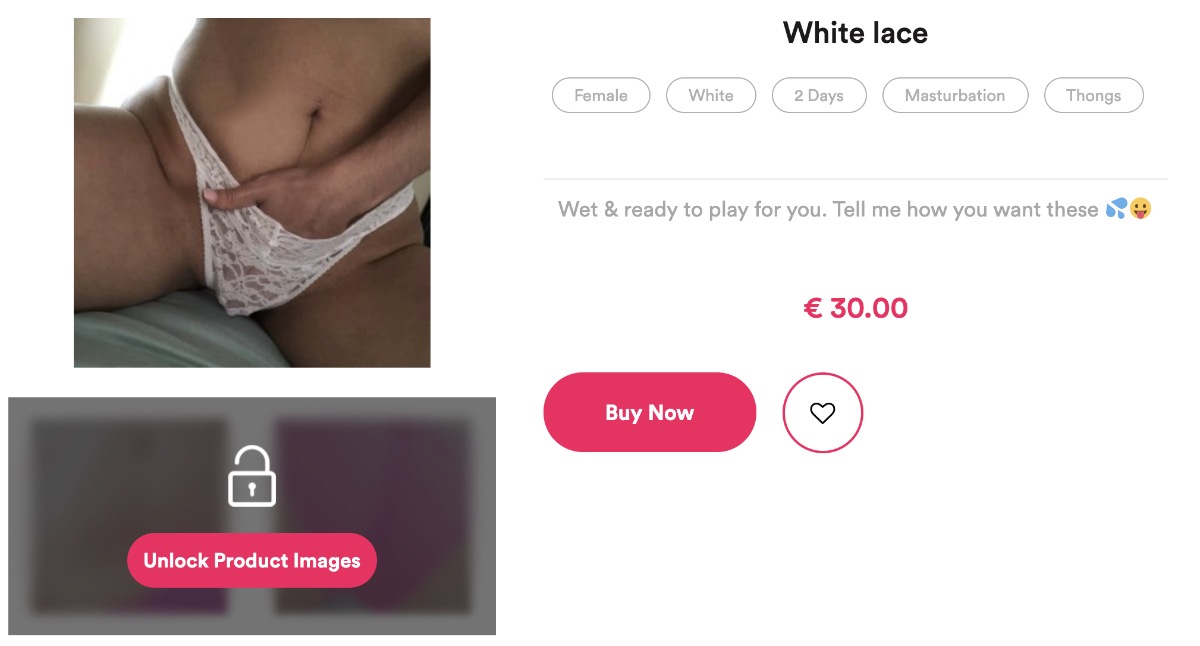 Sofia Gray's Best Features
Sofia Gray is undoubtedly a leading resource for this fetish niche and for good reason too.
Here are a few things makes Sofia Gray one of the best websites to make money with:
✔️ Their Focus On Privacy
Just like I explained with my guide on how to become a cam girl, one very important thing you need to keep in mind is your privacy.
With this type of "online business", you are dealing with a few weirdos so making sure your personal details (such as your name/address) stays private is MUST!
Sofia Gray has made keeping your privacy secure a top priority (as they should) and I applaud them for it.
✔️ You Set Your Own Prices
Another great thing about Sofia Gray is that you can set your own prices when it comes to your merchandise.
We'll talk about how much you should price your used underwear soon but yeah; you are not set by a minimum/maximum amount so you are free to do pretty much whatever you want here.
They even do not take any commissions off your sales (which is fantastic).
✔️ They Have A Huge Customer Base
As I said, within the "used underwear fetish", one of the main websites that keep popping up is Sofia Gray.
This means that it must have a huge audience of sellers on there ready to buy you, the alternative would be you having to go and find buyers yourself.
✔️ There's Good Money To Be Made
One of the major headlines that have put Sofia Gray on the map is the story of someone paying $5,000 for a pair of used panties through the platform.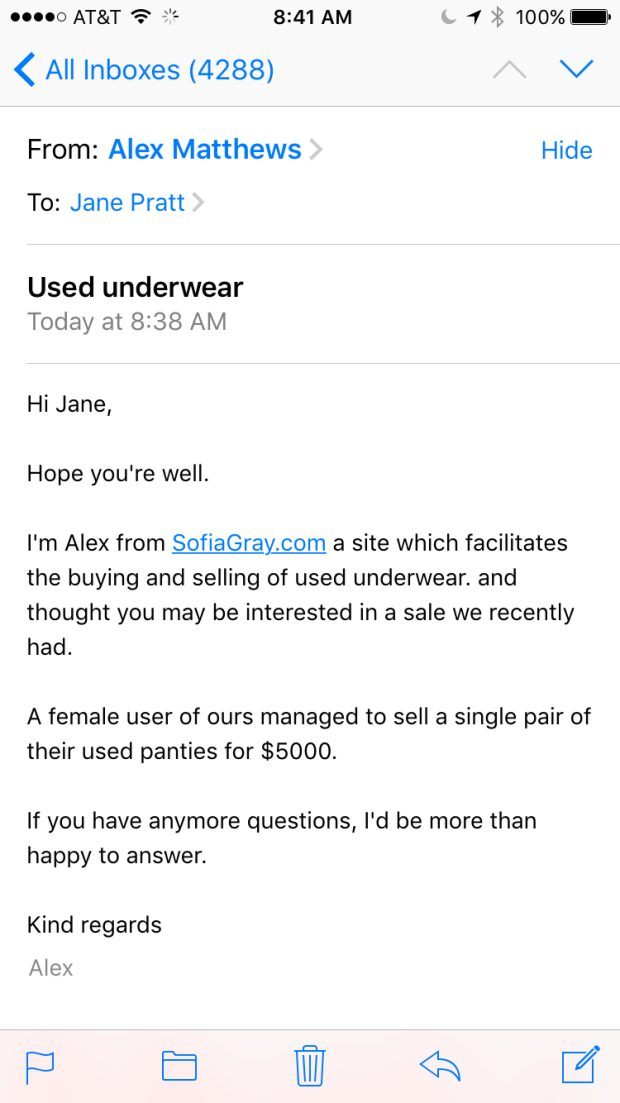 As crazy as that sounds, it did happen so yes;
There's definitely a lot of buyers with big budgets looking to buy up underwear from their favorite girls.
How Much Money Can You Make Selling Your Underwear?
While I have no doubt you have it in you to sell one of your used undergarments for $5000+, let's take a look at some more realistic figures which you can expect to make selling used underwear on Sofia Gray:
From my own research, it looks like the "going rate" for used underwear is about $15 to $30 per pair.
According to the Sofia Gray website, the "most active sellers" can sell around 8-10 pairs a month so if we take a $20 average for each underwear you sell; you are looking at an extra $200-ish a month.
Surely not life-changing money by any means, buy $200 a month for used underwear is a pretty damn good deal.
Of course, there's nothing stopping you from charging $100 a pair, but then I guess it all comes down to supply & demand.
How To Get Started With Sofia Gray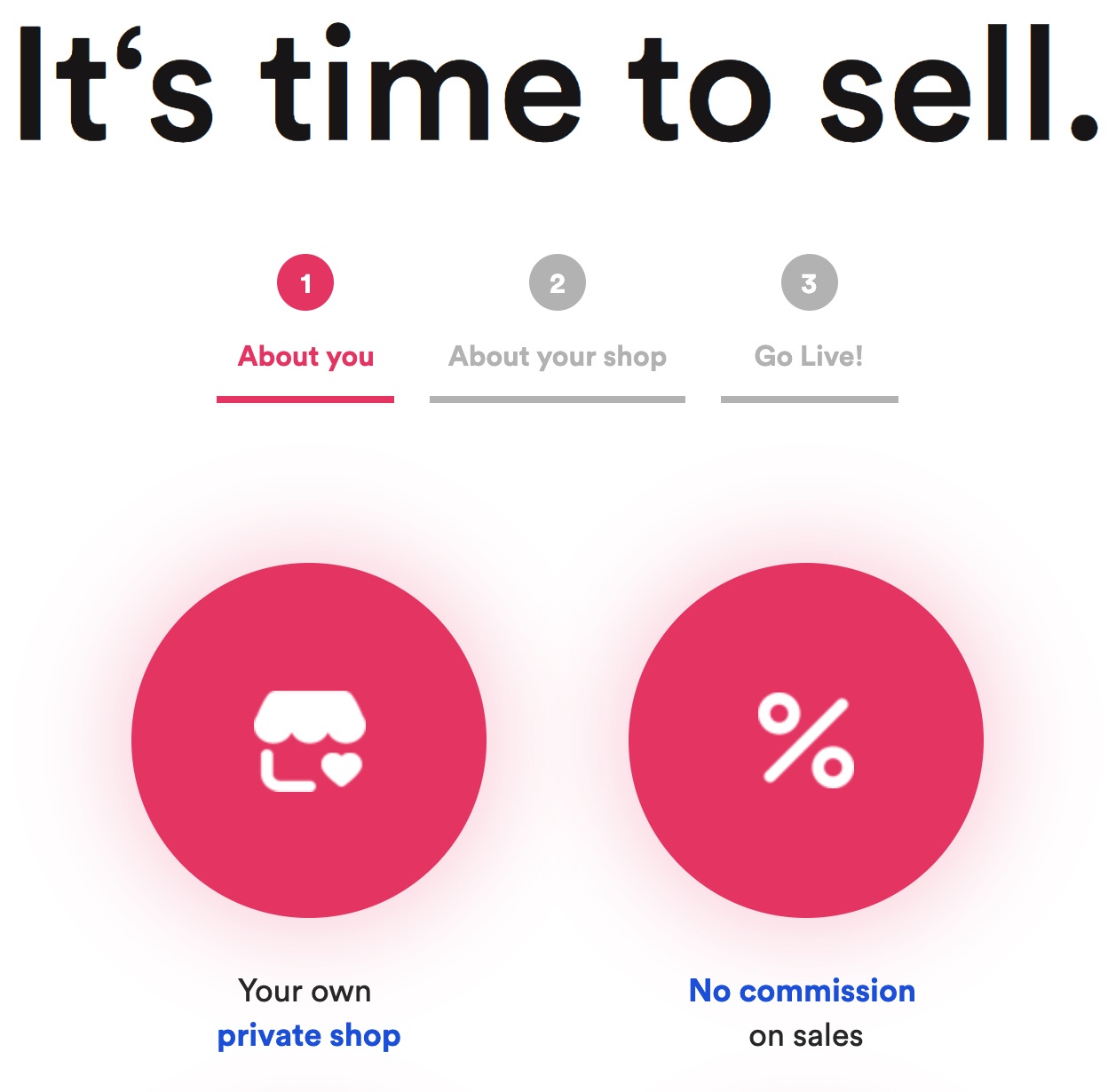 All you need to do to get started is an account, and you can do this by:
Register for a Seller Account
Create Your Store
List a few pairs of underwear for sale (price, images & descriptions required).
That is all; after you've done that, your job is to wait for someone interested to get in touch with you.
Once you have reached a deal, you then have to ship the product to your customer (remember the shipping fees are on you so factor that into your selling price).
3 Sofia Gray Alternatives (Where You Can Sell Underwear)
As I am sure you can tell by now; I am pretty blown away with this business model and I honestly can't believe such a thing exists so imagine my shock when I found that there are plenty more websites that allow you to sell your used underwear.
Here are some Sofia Gray alternatives:
The r/UsedPanties subreddit is not a platform per se, but there are plenty of girls selling their used underwear on there.
While this too may be an option, keep in mind that you are responsible for your privacy on there so thread carefully – although if you are serious about making money with this, I highly suggest you be active on that platform as there are 80,000 active members there.
What Else Can You Do To Make Money Online?
If you're looking for ways to make some extra money online – maybe even start your own business – there are plenty of ways you can make money.
Let's face it; this "selling your underwear" thing – while very profitable – is not something you can probably scale to a full-time business.
Remember; you are selling used panties so you can only use – I'm assuming – one panty a day so that's 30 panties in total (still not enough to make a full-time income).
NB: If you looking for ways to make money, check out my new course 100+ ways to make money sexually online with sexual/adult content!
My Final Thoughts On SofiaGray & Selling Used Underwear
Can you make money selling used underwear online?
Yes, you can!
Is Sofia Gray a website you can use to sell underwear?
Also a yes – although I would not limit myself to one platform.
Thank you very much for tuning in. I hope this guide on how to make money selling your underwear has been helpful to you and hopefully; you can use this information to make a bit more extra $$$ each and every month.
CLICK HERE to join Sofia Gray >>