Keeping up with the latest theme on this blog exploring the many ways you can make money sexually online, today I want to share with you how to make money as a sugar baby.
Being a sugar baby is becoming more and more popular online and the worldwide trends indicate an increasing number of young women are signing up to make their cash as sugar babies.
Why? Well – as it turns out, "sugaring" can quite the moneymaker for the right kind of person.
If you're interested in what it takes to become one, keep reading as I'm about to teach you how to get started as a sugar baby (online).
What Is A Sugar Baby?
I bet you that was a confusing mess back then so over the years, we've managed to sophisticate the term sugar baby and its meaning as well as give a more polite explanation of what the actual position entails.
With sites like SeekingArrangement becoming more and more popular lately, these kinds of arrangements are becoming widely accepted, however, the dynamic still goes mostly one-way; Men are the benefactors, while women are the recipients.
A sugar baby is a woman (usually a young one) who gets into a relationship with a man who pays her money. As a rule, she doesn't only have financial benefits from it but also gives something in return.
This could be companionship, time, and even sexual interaction.
Therefore, being a sugar baby is often compared to being an escort, but the two are not necessarily the same thing. As mentioned above, these relationships may very well cross over into intimate territory, however, the relationship is not necessarily inherently sexual.
A lot of sugar babies are young women who desire financial stability.
These women may be working their way through college or trying to break into a more lucrative profession, but as life always goes, they have bills to pay for.
Therefore, sugar babies leverage their attractiveness, companionship, social skills, and sexual desirability to engage in a 'sugar baby' relationship and receive gifts, cash, and even traveling arrangements in exchange for their time.
Being a sugar baby is usually very discreet and is rarely out in the open unless the sugar baby shares this information. So if you are thinking that nobody you know is doing it, maybe you are just blissfully unaware of who from all the people you know is a sugar baby.
If you don't think becoming a sugar baby is for you, you may want to check out some of my previous guides on alternative ways to make money online:
How To Make Money As A Sugar Baby?
According to SeekingArrangement, the average sugar baby is 25 and makes about $2,500 monthly through her sugar relationship.
However, there are no set-in-stone standards for how a typical relationship goes, as every arrangement can be different. And this can be a tricky part when it comes to the question of how much money should your sugar daddy pay.
Sugar babies are typically given an allowance and this could be in the form of 'pay per visit' or simply a monthly allowance.
The pay per visit typically means you will be receiving money from your sugar daddy after each of your dates. The monthly allowance, on the other hand, can be a bigger sum of money you will receive once a month.
While the terms for the relationship may vary, here's an idea of the factors you should consider when negotiating allowance: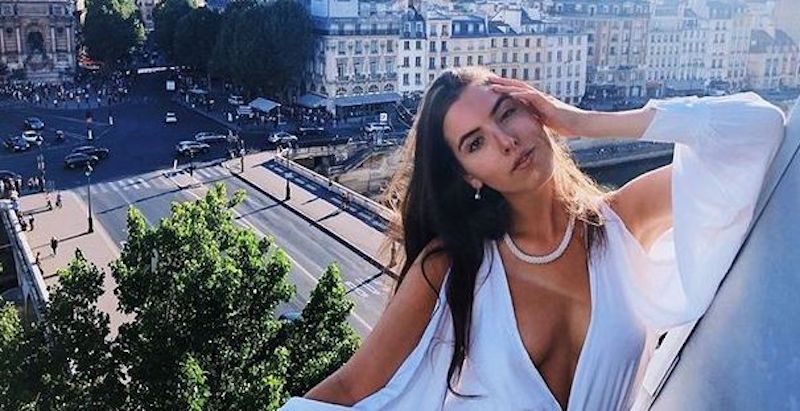 Time:
Or basically how much time will your sugar relationship take up? The more time spent together typically means a higher allowance. So you can definitely ask for a higher allowance if you were to meet up three times a week.
The Nature of Time Spent Together:
Anything that requires a longer time commitment such as traveling or spending full nights and weekends together should come with a larger allowance than what it would be for a date night out in town.
Exclusivity:
Are you expected to not date other men or sugar daddies during your arrangement? For sugar babies, exclusivity typically warrants a higher allowance.
Other expenses:
If you have to travel in order to spend time together, it's only fair that the expenses are covered by your sugar daddy on top of your allowance. Same goes if as a sugar baby you are expected to dress up in clothes that have a higher price tag.
Additionally, you might land on an opportunity to travel and visit many places your standard budget simply wouldn't allow you.
Or, you might meet someone who is married and specifically requires the relationship to be discreet, therefore they might be willing to pay an even higher allowance.
I mean, earning up to $2,000 on the side isn't an easy thing to do for a lot of people, so if you happen to land a gig like this, that's pretty awesome.
Several Things To Know About Becoming A Sugar Baby (VIDEO)
https://www.youtube.com/watch?v=ktOZwnpN4EQ
5 Websites Where You Can Find A Sugar Daddy
There are a ton of websites on the internet where you can find a sugar daddy, however, as someone who wants to venture into this world without any experience, you'd want to know the best of them out there, otherwise, your sugaring can be an unnecessarily difficult task.
Which is why we came up with this piece. Here are five of the best sugar daddy websites out there.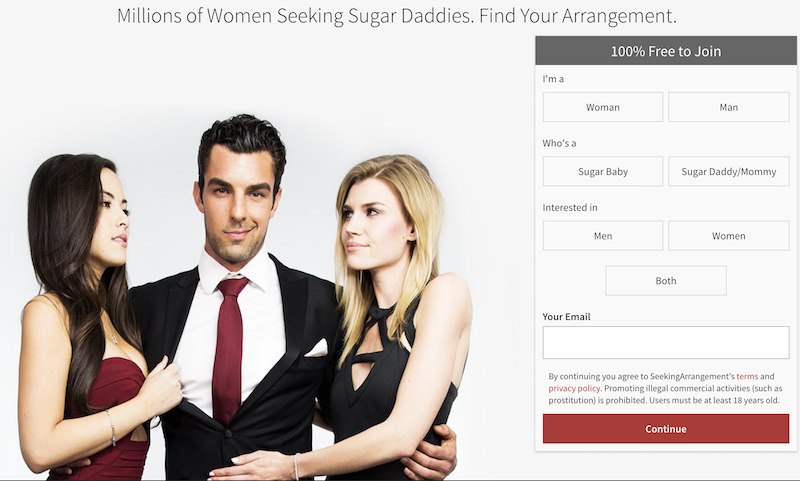 Seeking Arrangement was found by Brandon Wade in 2006 and turned into the biggest dating website designed to connect older men and women with young ladies and guys who are willing to go into a mutually beneficial relationship.
Needless to say, this is quite different from your standard dating site where you'd have just the sugar babies connecting with sugar daddies.
Being the world's largest sugar daddy dating site, Seeking Arrangement is not only successful for its matching features, but also for leading users to this renowned sugar bowl.
They have blogs that are packed on useful information describing these types of relationships and have also established a Sugar Baby University.
Here, users don't have to get confused about how to chat or how to ask for allowance as well as other entry-level questions.
While signing up and creating a new account, you will have to provide a phone number, email address, and upload a picture of yourself. This is done for verification purposes, therefore, you don't have to worry if the people you're chatting to have fraudulent intentions.
Additionally, you will have two categories presented to you from where you can choose whether you are a Sugar Daddy/ Sugar mommy or a Sugar baby.
Sugar babies are additionally asked to provide the amount of money you are seeking from your Sugar daddy/Sugar mommy.
Here are some additional features that seem to stand the Seeking Arrangement platform apart from other websites with similar services:
It has an advanced search filter designed for net worth, allowance, and income.
To make it safe, the Diamond members have their profile verified by Seeking Arrangement.
The Premium members on the other have higher search results, you can also have three account locations.
Sugar Daddies/Mommies are allowed to send up to 10 messages for free, to continue, you will have to subscribe for the monthly plan.
You can filter your search result by photos, viewed me, favorited, favorited me, and viewed.
Search profiles by location, age, educational background, ethnicity, hair, and height.
You can share private photos with some members.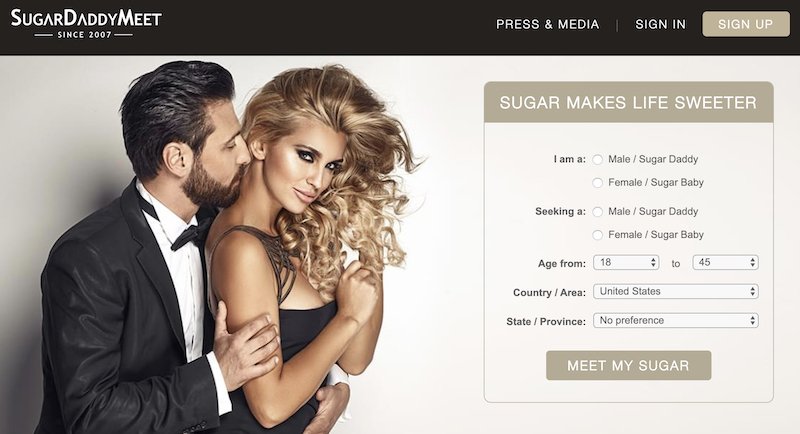 Known to be one of the best and largest sugar daddies dating sites on the internet, Sugar Daddy Meet is a platform where sugar daddies and sugar babies can connect with ease.
The website was first started back in 2007 and they currently accommodate millions of subscribers on a monthly basis with around 1.3 million live users.
Unlike Seeking Arrangement, the Sugar Daddy Meet platform doesn't cater to gay sugar daddies and cougars alike.
The sign-up process is simple and pretty easy just like every other site and is also accessible to a certain degree if you've not yet created your own account.
You can do this by using email or even your Facebook account, however, apart from that, you will also be asked to provide a clear picture of yourself.
Once your photo and age have been verified after registration, you will then have an improved profile that potential Sugar Daddies or Sugar Babies will find attractive.
This site takes the security of its users very seriously, therefore it is unlikely that you will find scam or fraudulent profiles on here. Sugar daddies are also asked to mention their income, which will also be verified.
Here are a few other features the Sugar Daddy Meet has to offer:
You are allowed to upload 26 pictures.
You can view other users' first date ideas, it allows you to post yours too.
You can search other members through their username and keywords.
To be a verified member, you will need some personal information coupled with your income.
It allows you to create your own blog and post on another user's blog.
You can add members to your favorites or block list with ease.
Start your own trend on the forum present on their platform.
You are allowed to post statuses and comment on others.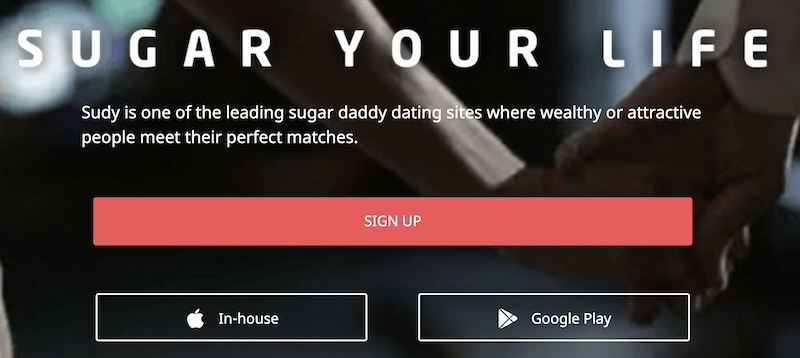 Sudy App is a dating site designed for sugar daddies and sugar babies to meet and engage in a mutually beneficial relationship in a safe environment.
Upon signing up, Sudy App is going to ask you for your email address, password, as well as your sexual identity and what are you looking for in a mutual arrangement.
At the last stage, you will be required to include personal information about your current relationship status.
Sudy App ensures all parties are protected, therefore, their questionnaires can be up to 20 questions long, however, they provide you with a progress bar that shows you how far you've fone with the registration process and how much is left.
If you are someone who signs up for the first time, you might also appreciate the fact that you won't have to verify your identity as an additional registering process.
And if you might be worried about the security and seriousness of this website, they have a way of pointing out profile integrity by making use of the verification badge which would be placed on your profile if you have provided enough information for yourself to be deemed "real".
This will allow other users to know if a particular profile is a scam.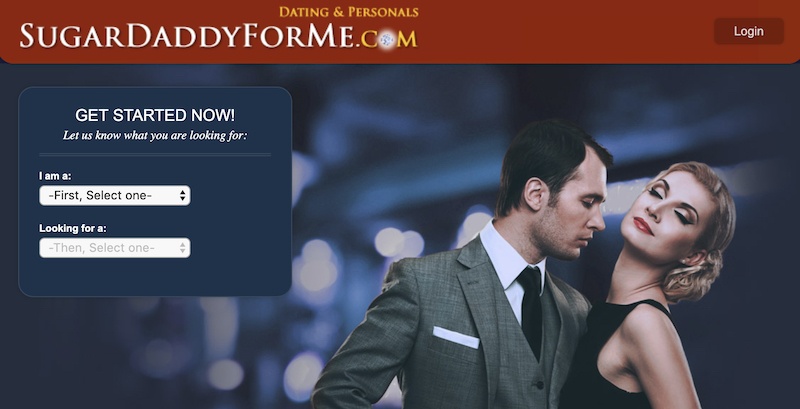 Sugar Daddy For Me is considered as undoubtedly being one of the best online dating sites for those who are looking for sugar babies and sugar daddies.
This dating site offers an easy-to-use platform where you can meet with people for a mutually beneficial relationship and it has been ranked high amongst all sugar daddy sites.
Here you will find over five million friendly and polite users that you can communicate and connect with.
While most of the dating sites are a breeze to register with, the Sugar Daddy For Me tends to make this process take a bit longer than usual. Upon signing up, you will be provided with four options which include Sugar Daddy, Sugar Baby (Girl or Boy) or Sugar Mama.
The next part to attend to is what you are searching for in a mutually beneficial relationship and so on. New users will be asked to provide basic personal information as well as a photo of yourself.
Additionally, Sugar Daddy For Me often upgrade their site, therefore, you will be asked to upgrade your account. While some find this annoying, I'm afraid it is a must, meaning you won't be able to access some parts or features if you don't do this.
Being a sugar baby on this platform, you will be able to search for profiles and you will find a lot of prospective sugar daddies who are not just successful and wealthy but are also attractive.
While this site still has its fair share of scammy profiles, according to some reviews the profiles are clearly recognized as a scam, so you don't have to waste any of your time on those.

Miss Travel is an online dating site that has a very unique purpose and its main focus is on helping sugar daddies find a travel mate. If you are particularly drawn to traveling and have that extra time on your hands to explore new places, this might be the site for you.
There are over a million generous sugar daddies on the platform and attractive sugar babies. People who need a beneficial arrangement coupled with similar goals can meet up to connect.
Signing up on this platform is quite different from the rest of the dating sites mentioned on this list. This site allows users to propose travel ideas to whomever they desire.
As part of the registration process, you will need to fill out the field with your personal information such as location as well as a short description of yourself and what you are looking for in a mutually beneficial relationship.
Every user on this platform is expected to complete their profile and upload their pictures, therefore, it is highly unlikely that you will run into a scammy profile on here.
Is Becoming A Sugar Baby A Good Way To Make Money?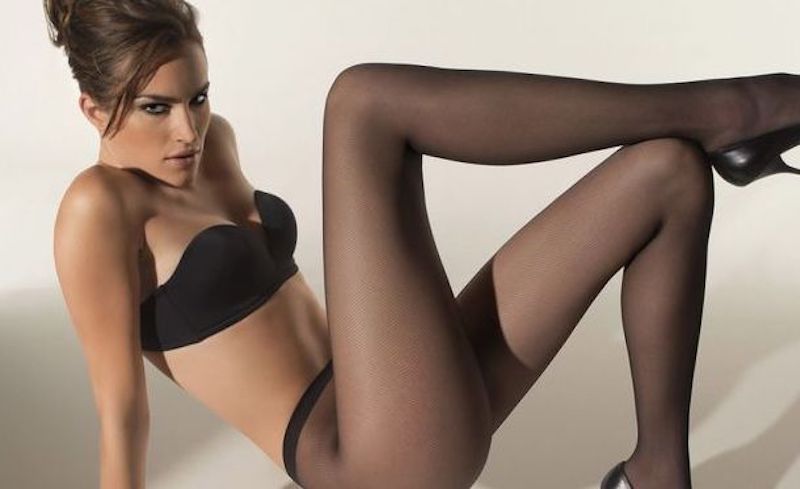 Yes – if you are up for it, you can definitely make a handsome load of cash by becoming a sugar baby.
If you're interested in making money with sexual/adult content, you can check out this new training course here.